Freedom of Expression in Times of War
By HANNA REGEV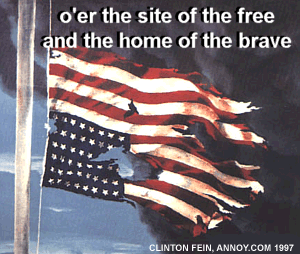 Last November, The First Amendment Project was prominently featured in a one-day symposium,
Freedom of Expression in Times of War
, organized by Hanna Regev and Clinton Fein in collaboration with the University of California Berkeley Extension. The symposium also included FAP Executive Director, David Greene.
The one-day symposium provided a critical forum for discussion and exchange of ideas about the erosion of civil liberties in times of war. Regev gave an historical overview of censorship that has its roots in the Sedition Act of 1798. The presentation included a discussion on political art produced in the course of two centuries to include the work of cartoonists Adelbert John Volck (1828-1912), (known as the only Confederate cartoonist), and Thomas Nast, (the creator of the Republic elephant from Civil War), Robert Arneson, Wally Hedrick and many others.
Fein's presentation focused on his Supreme Court case against Attorney General, Janet Reno, as well as the surprise destruction of his two Abu Ghraib art works by printing service Zazzle, that occurred the day before his exhibition, in the middle of a Presidential election.
Fein also moderated a panel that grappled with the aftershocks of 9/11 and examined the erosion of civil liberties since the tragedy and how the Patriot Act affects the productivity and creativity of contemporary artists. Manifestations of freedom of expression affecting curatorial practices; and the challenge of preserving freedom of expression on the Internet were covered too.
The panelists included Richard Lang and Scott Shields. Lang is an artist, activist, poet and president of Trillium Press in Brisbane California and a published author of three books,
Images and Stories
,
Bright Moment
,
Bright Moment and Bear Valley Spring
. Lang's political activism has roots in the civil rights movement and the March on Washington in 1967.
Scott A. Shields PhD and Chief curator of the Crocker Art Museum presented the case of Irving Norman (1906-1989), an artist who was under FBI watchful eye for 25 years (
http://www.irvingnorman.com/
).
When the symposium took place we focused on the ramifications of extending the Patriot Act's provisions. Passed in the wake of the September 11, 2001 terrorist attacks, the legislation makes it easier for federal agents to secretly tap phones, obtain library and bank records, and search the homes of suspected terrorists. Many major provisions were scheduled to expire December 31, but lawmakers extended them to February 3, 2006.
The main disagreements center on provisions that allow FBI agents to obtain records on terrorist suspects who have very limited options for challenging such searches. The law makes it virtually impossible for targeted people to prevail, even if they have no ties to terrorism.
Since the symposium, we have been subjected to an unrelenting onslaught of information revealing violations of our constitutional rights and civil liberties. These include the recent egregious, domestic spying program of the National Security Agency's (NSA) -- eavesdropping on American citizens during the course of its work monitoring suspected terrorists and foreigners believed to have ties to terrorist groups. The revelations go deeper and tell us that the NSA's vast data-mining activities began shortly after Bush was sworn in as president, contradicting his assertion that the 9/11 attacks prompted him to take the unprecedented step of signing a secret executive order authorizing the NSA to monitor a select number of American citizens thought to have ties to terrorist groups.
Last week Google, the world's largest search engine challenged a subpoena by the Justice Department demanding the company turn over an entire week's worth of searches. Microsoft, Yahoo and America Online, having been served similar subpoenas, complied and turned over information. Although the information sought was aggregated, not linked to a user's identity, the fact that Google and others retain such information, alarmed privacy advocates, who fear a next subpoena might be far more invasive. Google's resistance, while to be applauded, appears to be based primarily on an unwillingness to reveal trade secrets rather than a fierce commitment to privacy.
As a user of this powerful search engine, I am alarmed and gravely concerned about the hovering threats to our privacy. Already we see a spike in some people's Internet search habits for fear that Google might be forced to turn over records on millions of its users' search queries to the government. Some reports indicate that people are thinking twice about the information they type in search engines or the opinions they express in email messages. Freedom as we know it has been hampered. We have begun a new phase in the life of our fragile Republic and have entered the reign of self-censorship.
As a citizen of the free world, I am justifiably concerned about "
Big Brother Watching Me
." The recent developments and the President's pronouncements bring to mind the notorious Order 9066 and the United States fighting for freedom and liberty abroad while at home it rounded up over 110,000 innocent Japanese American residents, two thirds of whom were American citizens, and placed them in concentration camps (euphemistically termed "relocation centers") for the duration of World War II. There were no crimes committed, no trials and no convictions, where the principle of "no citizen shall be deprived of life, liberty or property without due process of laws of democracy" was ignored.
America's concentration camps must not be seen as just an isolated event that happened to some unfortunate people a long time ago. The lesson to be learned from this shameful history is to understand that when freedom of expression is taken away from one group, the constitutional rights for all Americans are endangered. We must confront the current government's incongruent manner and realize that we have been taken on this road before at least six times since the American Revolution according to Geoffrey Stone, the author of
Perilous Times
.
First Amendment Project's commitment to civil liberties remains as critical and important as it ever was.
---
Hanna Regev is a Board memeber of First Amendment Project. Ms. Regev, has an M.A. in Museum Studies and MA in Modern European History from San Francisco State University. She works with a myriad of cultural organizations and art galleries in San Francisco and the Bay Area, producing cultural public programs and developing adult public programs in history, art, and museum practice. Prior to joining FAP, Ms. Regev served on boards, consulted with the African American Museum, Marin Museum Association on a Mobile Museum and was president of the Northern California Council of the National Museum of Women in the Arts.