Words that Kill and Bombs That Chill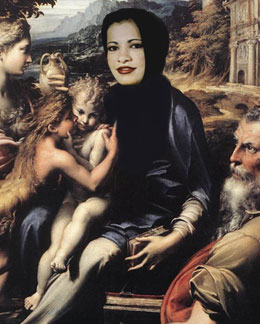 While the First Amendment, of course, relates only to freedom of expression in the United States, it's instructive to look at attacks on freedom of expression in democracies beyond our borders. Especially when they are designed to hide the truth about war and involve the United States.
National newspapers in the United Kingdom have been bitch slapped with an unprecedented gag order under the
Official Secrets Act
, under which they wll be prosecuted if they publish a leaked sensitive five-page memo containing politically embarrassing details of face-to-face exchanges between Prime Minister Tony Blair and President George W. Bush, in the White House in April 2004
Next week, Leo O 'Connor, a researcher to Labour MP Tony Clarke and David Keogh, a former Cabinet Office official, will appear before Bow Street magistrates where they face prosecution under Britain's
Official Secrets Act
.
National newspaper, the
Daily Mirror
published a memo on a conversation between Blair and Bush, which not only included strong disagreement between the two over the heavy-handedness of the attack in Fallujah in Iraq, but recorded a threat by President Bush to "take military action" against Arabic TV station, al-Jazeera, for daring to show pictures of the attack that killed over 1000 civilians. U.S General were apparently infuriated -- perhaps more than the families of the civilians killed -- that the pictures had been broadcast. Secretary of Defense, Donald Rumsfeld, called al Jazeera's actions "vicious, inaccurate and inexcusable."
Her Majesty's Attorney General, the long-winded, The Right Honourable The Lord Goldsmith QC, was, ironically, prior to becoming Attorney General, co-Chairman of the IBA's Human Rights Institute, and was the Prime Minister's Personal Representative to the Convention for the European Charter of Fundamental Rights. Could this be where he learnt to respect the rights of a free press?
Lord Goldsmith's
decision to prosecute a journalist under the Official Secrets Act is said to be unprecedented, according to Andrew Nicol, a media expert quoted in an article in
The Guardian
.
In an article in The Nation, Jeremy Scahill wrote the following:
Given Washington's record of attacking Al Jazeera both militarily and verbally, it is not outside the realm of possibility that the Bush Administration could have simply decided that it was time to take the network out. What is needed now is for a British newspaper or magazine to publish the memo for all the world to see--and if they face legal action, they should be backed up by every major media organization in the world. If true, Bush's threat is a bold confirmation of what many journalists already believe: that the Bush Administration views us all as enemy combatants.



One thing is certain. The bombing of a news organization by the United States military on instruction by the President won't have a chilling effect. It will be sizzling.
Also, under the United Kingdom's new and controversial Terrorism Bill, the Government proposed a new criminal offence of
indirectly
encouraging acts of terrorism including
by means of glorifying
them. In response to the horrific suicide bombing of Maxim's restaurant in Haifa, Israel by 29 year old lawyer Hanadi Tayseer Jaradat, I created an image,
Bloody Mary
, designed to question the notion of glorification as well as glory in the context of war and belief. Not to glorify terrorism, but to attempt to understand it. At the time I created the image, I wrote:
More than ever, we need to understand the psychology. What desperation, anguish and confusion compel a beautiful, educated young woman to blow herself up, taking out twenty one innocent diners with her? What horror have such eyes witnessed, what hope diminished, what possibility snuffed out? There will never be peace in the Middle East as long as we ignore the reality of what is happening, silence enlightening opinions, or refuse, point blank, to even try to understand. Failure to understand, much less observe, is no longer an option.
Lord Goldsmith believes that turning a blind eye, stifling expression by vague definitions and insidious prosecutions that enable liars and condone violence and half truths to shape the debate will make his nation safer. He couldn't be more misguided, and with the package of goods he's trying to sell, Britain couldn't be lulled into a more false sense of security.